I just got borrowed a brand new Zorro graphics card and after a few firmware upgrades it is pretty much usable now. So I decided to write some lines about it and show how it works at the moment (I mean now right after the latest firmware upgrade 1.4).
OK what is the VA2000? It is a FPGA based graphics card for Zorro equipped Amiga computers featuring new modern standards like high resolutions, color depth over DVI-D/HDMI and compact size. Besides HDMI port it has a hacker-friendly expansion header for upgrades and custom mods and also features a slot for MicroSD cards that can be mounted in AmigaOS as a disk storage (right now not bootable). Author of this card is MNT's Lukas F. Hartmann and Scarab Hardware, makers of the miniSpartan 6+.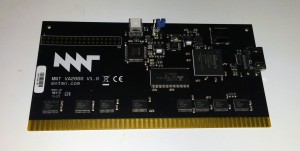 Graphics card is autosensing the Zorro version just like CV64/3D, so either you get 4 MB Zorro2 card or 32 MB Zorro3 card. Especially the fact we have 32 MB Zorro3 card is unique. Lets check authors description of the cards features:
Up to 1280x720p HD screen resolution at 8bit 256-colors "Chunky", 16bit or 32bit color depths.
Experimental 1920×1080 Full HD screen resolution if your monitor supports 30Hz.
Other supported resolutions: 320×200, 320×240, 640×480, 800×600, 1024×768
Tested with applications like IBrowse, Netsurf, MysticView, PPaint, TVPaint, Frogger (Video player) and games like ADoom, Abuse, ScummVM (play Full Throttle on your Amiga!)
DVI-D / HDMI graphics output
RTG compatible driver (Requires 68020 or better CPU)
MicroSD card reader (use MicroSD volumes in AmigaOS)
Uses 4MB of Zorro II address space or 32MB of Zorro III for graphics memory (the most on any Amiga graphics card)
Amiga Autoconfig (TM) compatible
Autosensing Zorro II/III compatibility
User upgradeable Spartan 6 LX25 FPGA core (flash from Linux/Windows machine via USB port)
Completely Open Source: https://github.com/mntmn/amiga2000-gfxcard
Recognized by latest boards.library
Officially supported by Amiga NetBSD 7
Reported to work on Amiga 500 and GBA computer with Zorro adapter and turbo card
Hardware installation
You get card in a nice box with short manual, metal backplate and Logo sticker. There is no floppy disk or CD with drivers, but its absolutely not needed, all can be found on the mnt web. Card size is similar as Deneb, so it does not collide with ISA or PCI card in the row. Be careful then with pluging the card by the good side up. When Amiga started the VA2000 should light up a green LED.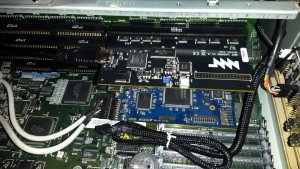 Software installation
Very easy is also the software installation. Once you have Picasso96 installed (for uaegfx), you just:
copy the mntgfx.card into Libs:Picasso96 driver
copy Picasso96Settings to Devs:
rename uaegfx monitor to va2000 and edit icon parameter BoardType=mntgfx
reboot and choose one of the new screenmodes

Development ongoing
The card author still develops the drivers and firmware and I have to admit card is better version by version. Latest upgrade from version 1.3 to 1.4 boosted some of the functions more then 12 times. Firmware upgrade action itself is very easy:
close jumper on the card to enable USB powering
plug USB cable between card and PC
doubleclick on the *.bat file
Note: Please ALWAYS read a Readme file and do the firmware upgrade accordingly. My description of the upgrade may not describe entire upgrade process.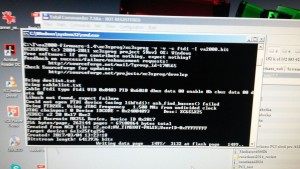 Usage
Since the first driver release the real usage is now way better. It is usable for most of the RTG applications and games. Just check the video below ;o)
Benchmarks
In the Syspeed benchmarks below you can see its still not as fast as other graphics cards on Amiga, but its improving by every fw/driver upgrade and I bet it will exceed them very soon.
From the left: VA2000 firmware 1.4; VA2000 firmware 1.3; BVision PPC; CVision PPC; Voodoo3 3000
Bugs and graphical glitches
I should mention there are also some graphical glitches which I can see when using VA2000:
When running 320×200 screenmode (space between 200 and 256 height is messy)
During Syspeed graphical and Intiution tests (bckground of the windows is messy)
When playing Napalm game (mouse is drawing artifacts)
When playing video (Riva) in wb window (artifacts appeared on the right side to the players window)
But I am sure with the next fw/driver versions author will remove these bugs and improves the speed as well.
Impressions, wishes, future
Generally I am very excited about this card, its very cool, modern, compact, unique with its 32 MB, it has big performance potential and author is very communicative with community trying to improve thigs he gets reported.
Author is also working on a video module (small card plugged to video slot and connected to gfx card) which should work just like Picasso4. Author has planned it already because VA2000 pcb contains the video module pins already (only the connector itself is missing). Then you wont need any scandoubler or additional monitor-signal switcher and VA2000 will be complete graphical solution for your Amiga.
My secret wish is the Warp3D support (something like Voodoo3 emulation) in the future. Anyway VA2000 will have a big future between the Amiga Classics hardware I have no doubts.