Everybody knows USB, these days its everywhere on PC, MAC, TVs, cellphones, cars… Amiga started to be USB positive in 2002 with things called Subway (clockport), Highway (Zorro 2) and Thylacine (Zorro 2). One year later the company E3B behing the Subway came up with Highway's successor called Algor. And finally in 2008 E3B came up with Deneb which used the maximum power of Zorro slots including DMA. In 2013 Individual Computers company released network card X-Surf 100 with inactive USB ports and one year later they featured USB module called RapidRoad which enables these USB ports. The same year Genny Flick from Amibay released improved version of Thylacine called MiniThylacine, which is complete remake of Thylacine with the size of Deneb and builtin USB HUB with two 9 pin internal USB connectors.
So this article is some kind of comparison of three USB cards I own right now:
Mini-Thylacine
X-Surf 100 + RapidRoad
Deneb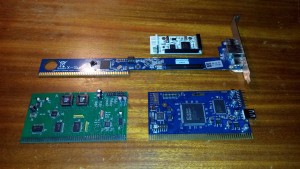 All three cards were tested together in one Amiga (A4000T, CSPPC, CVPPC) under AmigaOS3.9 and latest Poseidon version 4.5. Poseidon software supports many classes and I tested few of them such as masstorage, hub, hid, usbethernet and usbaudio.
Technical details
Mini-Thylacine
full SMD technology
complies to the USB 1.1 specification
integrated HUB with 4 ports
each port is short-protected and over-load protected
fully bug fixed, no a single correction on schematics or PCB
max transfer rate is about 380KByte/sec (depends of your CPU power)
low current consumption (about 160mA) without any device connected to USB ports
RapidRoad
provides two USB ports
isp1763 USB host controller chip
compatible to USB 1.1 and 2.0 specifications
supports USB 2.0 highspeed mode (480 Mpbs)
card features clock port and proprietary X-Surf 100 expansion connectors
two expansion variants exist: clockport, xsurf100
supplies up to 1.5 ampere per USB port
only supports PIO (Programmed I/O) operation (no DMA), thus having higher load on the CPU during transfers
typical data rates: 7.5 MB/s (Zorro III), 2.5 MB/s (Zorro II), 700 kByte/s (Clock Port)
Deneb
one external and two internal USB ports
compatible to USB 1.1 and 2.0 specifications
supports USB 2.0 highspeed mode (480 Mpbs)
DMA possible in Zorro III mode – card implements Zorro III busmaster (Super Buster 9 or 11 needed for DMA mode)
supports PIO (Programmed I/O) operation in Zorro II and III modes
Fast Zorro II mode on Winner / ZIV boards (Deneb must be placed in one of the two topmost Zorro II slots; Fast Zorro II jumper must be set)
typical data rates: Zorro III: 6 MBbps (PIO) resp. 8 Mbps (DMA); Zorro II: 2 Mbps (only PIO); Fast Zorro II: 3 Mbps (only PIO)
overload and short circuit protection for all ports; integrated power management
48 MBit FlashROM (4 MB for USB stack, 2 MB for firmware and installation software)
FPGA bus interface, can be upgraded via software
hardware watchdog (disables FlashROM in case of errors)
rescue mode, selectable by jumper (must be set for firmware upgrades)
4 LEDs, showing: FPGA booted (should be always on), Zorro II mode, Expansion port activated, Rescue mode active
22 pin expansion header for clockport expansions (optional, depends on firmware)
Price and availability
Mini-Thylacine … 110 EUR (99 EUR) only available from 2013 till 2015 on Amibay (there may be more production waves in the future)
RapidRoad … 96 EUR + 134 EUR for X-Surf 100 still available since 2014
Deneb … discontinued, initial price 190 EUR, now secondhanded 350 – 500 EUR
Tests
Except Mini-Thylacine which is Zorro2 only card the others two have possibility to work either in Zorro2 or in Zorro3 mode (Deneb also can work in Zorro3 DMA mode). I tested all these modes so in total I made 5 tests on 6 configurations. Let me describe the tests now:
Masstorage – the main function of the USB is to transfer data using USB Memory Stick (Key). All three cards work absolutely fine with masstorage.class

HID – human interface devices such as mouse or keyboards also work fine with all three cards (I tested laser optical mouse and keyboard).
HUB – I prefer to use internal USB HUB which has own power cord and this one can easily charge a cell phone, connect USB ATAPI device or hard disk. You cant do that on the Zorro only powered card because some of the USB devices are more power hungry. Mini-Thylacine and Deneb work 100% fine, the only problems I have with Rapidroad. While I connect internal USB hub on the internal USB connector which is then connected with internal card reader I got very often disconnected and Poseidon software fails. When I use external backplate connector with card reader then it work fine.
USB Ethernet – For the Mini-Thylacine and Deneb this makes a great opportunity to have a ethernet connection without need of next Zorro card investments. X-Surf iteself is a network card, so then there is no reason why to connect another ethernet over the Rapidroad. But I tested all three cards and they worked with usbaxiseth.class very well.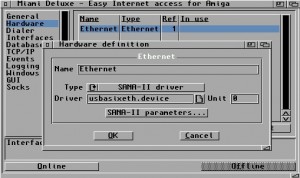 USB Soundcard – For the last test I choose USB soundcard. Never tried that before, so I just picked up some of the cheapest USB Soundcards on the market, plugged in the USB -> it was detected by Poseidon -> and automatically mounted to AHI. In AHI Prefs I setup one mode with this new driver and tested with AmigaAMP. Rapidroad and Deneb worked fine, Mini-Thylacine refused to work with it, the driver even said that in error message, Thylacine is just too slow for that feature.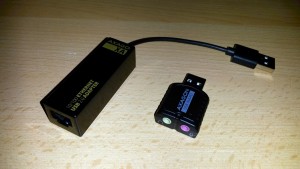 | | | | | | | |
| --- | --- | --- | --- | --- | --- | --- |
| | MiniThylacine | Xsurf100+RR (Z2) | Xsurf100+RR (Z3) | Deneb (Z2) | Deneb (Z3 PIO) | Deneb (Z3 DMA) |
| Massstorage | Yes | Yes | Yes | Yes | Yes | Yes |
| Mouse | Yes | Yes | Yes | Yes | Yes | Yes |
| Keyboard | Yes | Yes | Yes | Yes | Yes | Yes |
| HUB | Yes | Yes | Yes (problems) | Yes | Yes | Yes |
| RAW read | 0,36 MB/s | 1,95 MB/s | 4,99 MB/s | 1,87 MB/s | 4,23 MB/s | 5,84 MB/s |
| USB Ethernet | Yes(3 kB/s) | Yes(360 kB/s) | Yes(413 kB/s) | Yes(360 kB/s) | Yes(422 kB/s) | Yes(420 kB/s) |
| USB Soundcard | No | Yes | Yes | Yes | Yes | Yes |
Conclusion
Deneb Deneb Deneb ;o) Well yes but its not simple as it looks. Deneb is discontinued product. If you have a chance to get one and you are not terrified about the price, get one, get two or how much you can. But believe me this thing is "raaaare" and so hard to get one these days. So if you want USB to work fast and you want it now, go and buy Xsurf with Rapidroad (and if you choose version with clockport, you can always re-use it in some Desktop Amiga like 600 or 1200). In Zorro3 it makes the same speed performance as Deneb and Poseidon supports them both equally. And what about Thylacine, the Mini version is nice little card which I would see suitable for Amigas like A2000 or A1200T with Z1/Z2. For the Zorro3 Amigas it has no sense to use Thylacine, you will be disappointed by the speed.